Caesar LaMonaca:
A Remembrance of the Bayfront Park Band Shell Concerts
1929-1977
For Jean LaMonaca McNamee and Caesar LaMonaca, Jr.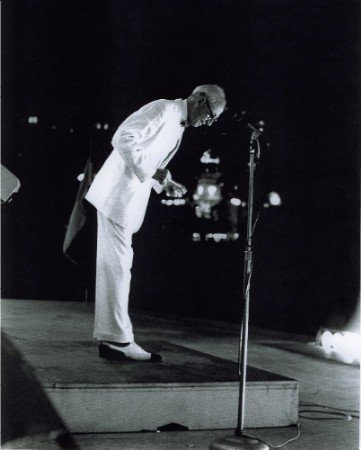 To most Miamians of a "certain age," mention of the name Caesar LaMonaca immediately evokes fond memories of the old Bayfront Park Amphitheater and band concerts. Modeled on the famed Hollywood Bowl, the band shell, now no longer standing, was a landmark where LaMonaca presided over his symphonic band, impeccably dressed in his trademark white suit, for almost half a century and thousands of performances. Sponsored by the City of Miami, these free open-air concerts given twice weekly on Wednesday and Friday evenings during a November to June season were hugely popular. In the years before air-conditioning, television and computers altered life-styles, tourists and residents alike flocked in great numbers to the Bayfront Park Band Shell lit in rainbow colors to enjoy an evening of music under the stars and a sense of community.
LaMonaca carefully structured his concerts so that there would be something to appeal to almost every musical taste. Selections for each program featured operatic favorites, popular songs, classics, novelty numbers and marches, all arranged by LaMonaca himself for a band that included string players. His music library was vast; he was said to have had in his repertoire more than 1,500 marches alone. In the latter years, local announcer Gordon Shaw narrated the concerts and there was usually a guest artist. Occasionally, the audience would be invited to sing along. The Star-Spangled Banner brought every concert to a close. Over the years, virtually everyone who was anyone in Miami music either played in or soloed with LaMonaca's band at one time or another.
Tall and slender, LaMonaca possessed great talent and energy. In addition to his symphonic band, he made many contributions to Miami's musical life that accorded him his well-deserved legendary status. Born in San Severo, Italy in 1896, he came to the United States in 1901, to continue a career in music already begun at a very young age. After touring with various ensembles, he came to Miami in the early 1920s to conduct a band at the Roman Pools and by 1924 was director of the Hollywood, Florida municipal band. LaMonaca accepted an offer to return to Miami in 1926 and in 1929, he became music director of the Harvey Seeds American Legion Post band, which he led for twenty years. In 1931, he formed the Greater Miami Boys Drum and Bugle Corps, which he headed until 1955. From 1946 to 1955, he also organized and directed a youth symphony that performed twice during the summer months at the band shell while his symphonic band was on hiatus.
Caesar LaMonaca passed away at the age of 94 in 1980. This site is meant to give a glimpse into an important Miami cultural institution. The accompanying music, although containing only excerpts of just one singer's performances, the noted basso John Tone, was made from what may be the only recording extant of LaMonaca's band in concert.
- Sharon K. Higgins, January 2004
---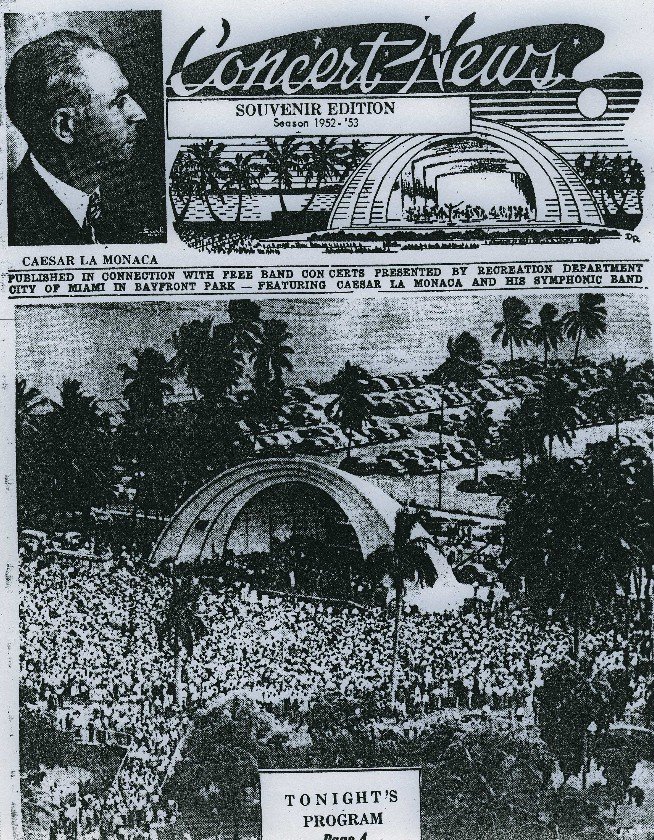 ---
Home